What are Immune related adverse events?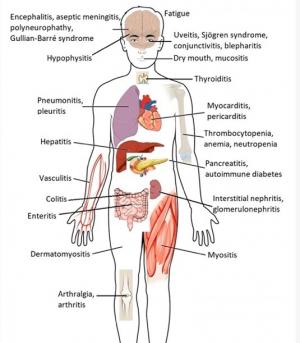 Immune checkpoint inhibitors (ICI) for the treatment of cancer have been a major breakthrough in oncology. These medications can activate your immune system to fight cancer BUT in rare cases, the immune activation can lead to autoimmune diseases i.e. the immune system attacks your own body.  Manifestations of the immune activation can affect organs such as the skin, lungs, liver, thyroid, muscles and joints (Figure 1).  The illnesses caused by the immune activation are called immune-related adverse events (IRAEs).  With the growing use of these agents, rheumatologists are seeing various IRAEs related to the musculoskeletal system ranging from mild joint pains and muscle aches to inflammatory diseases of the muscle (also known as myositis). 
People with known autoimmune disease such as rheumatoid arthritis or psoriatic arthritis can have a flare of their disease with the use of the ICI medications as well and this will need to be addressed by your rheumatologist or by the Rheum-IRAE clinic physicians.
It is important to remember that these events are rare but should be considered during cancer therapy.
What medications are known to cause IRAEs?
Medications used to interact with PD1 and CTLA4 on T-cells (important immune cells) can lead to autoimmunity.  Some of the more commonly used medications are noted in Box 1: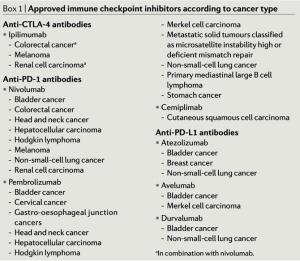 Ramos-Casals et al. Nature Reviews Disease Primers 2020
Atezolizumab (Tecentriq)
Avelumab (Bavencio)
Ipilimumab (Yervoy)
Nivolumab (Opdivo)
Pembrolizumab (Keytruda)
Durvalumab (Imfinzi)
What will happen in the Rheum-IRAE clinic and how do I get an appointment?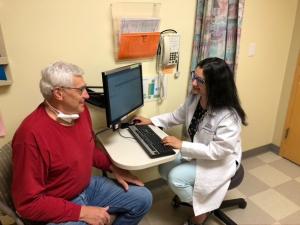 The Rheumatology-immune related adverse events (Rheum-IRAE) clinic at the University of Washington Roosevelt clinic evaluates and treats patients experiencing rheumatologic side-effects from the immunotherapies. The rheumatologist will work closely with your oncology providers to recommend medications to calm the immune system down.
A visit will include:
Review of the records from your cancer specialist
Comprehensive examination
Additional laboratory testing as needed
Discussion of medication to treat the autoimmune manifestations
Schedule follow up visit as needed
Clinic rheumatologists
To make an appointment:  We are currently accepting referrals from oncology directly.
Contact Information:
4245 Roosevelt Way NE
Seattle WA 98105
Phone 206-598-4288
Fax 206-598-6822
Research
Included are publications in cancer therapy-associated immune related adverse events at the University of Washington:
Richter MD, Hughes GC, Chung SH, Ezeanuna M, Singh N, Thompson JA. Immunologic adverse events from immune checkpoint therapy. Best Pract Res Clin Rheumatol. 2020 Aug;34(4):101511
Kaur A, Doberstein T, Amberker RR, Garje R, Field EH, Singh N. Immune-related adverse events in cancer patients treated with immune checkpoint inhibitors: A single-center experience. Medicine (Baltimore). 2019 Oct;98(41):e17348
Michailidou D, Khaki AR, Morelli MP, Diamantopoulos L, Singh N, Grivas P. Association of blood biomarkers and autoimmunity with immune related adverse events in patients with cancer treated with immune checkpoint inhibitors. Sci Rep. 2021 Apr 27; 11(1):9029
Alexander S, Swami U, Kaur A, Gao Y, Fatima M. Ginn MM, Stein J, Grivas P, Zakharia P, Singh N. Safety of immune checkpoint inhibitors in patients with cancer and pre-existing autoimmune disease. Annals of Tranl Med (In Press)