RHEUMATOLOGY fELLOWSHIP tRAINING AT A GLANCE
Your 2-3 years of fellowship training contain a number of opportunities for clinical exposure, research training, and scholarship.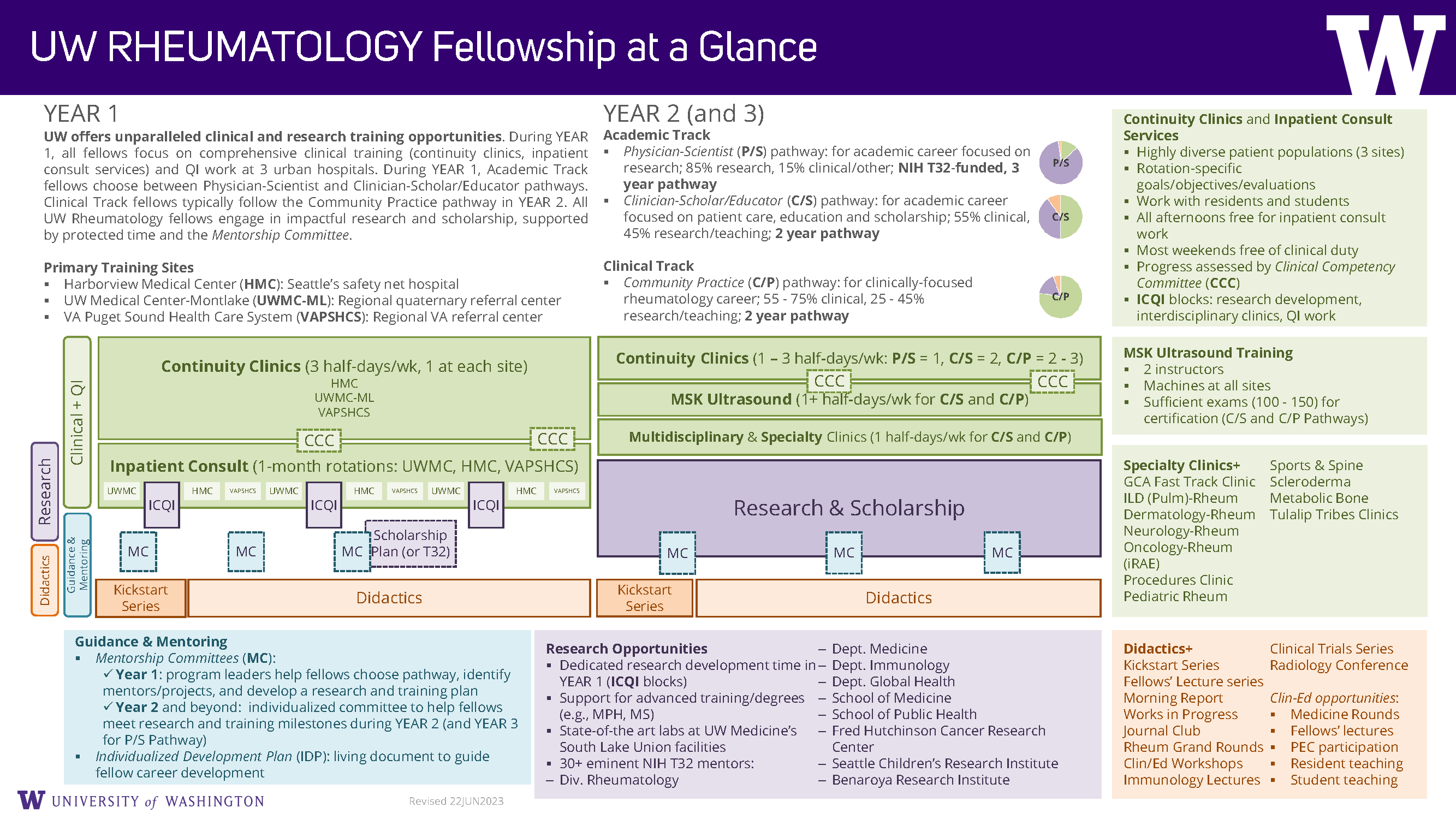 Clinical Training
Continuity Clinics First-year fellows maintain one half-day continuity clinic at each of the three training hospitals for a comprehensive outpatient experience. Depending on pathway, second-year fellows maintain between 1 and 3 continuity clinics at the site(s) of their choosing.
Inpatient Consult Service First-year fellows have 9 months of inpatient consult service - 3 months at each teaching hospital, occurring in month long blocks.
Telemedicine All fellows are credentialed and trained in delivering care via telemedicine, an essential service during COVID-19 and for our patients with limited mobility or who live in the WWAMI* referral region (*Washington, Wyoming, Alaska, Montana, Idaho).
Musculoskeletal Ultrasound (MSK-US) Depending on training pathway, second-year fellows can pursue comprehensive MSK-US training (100 – 150 proctored exams) sufficient for ACR certification.
Multidisciplinary Clinics Second-year fellows rotate through rheumatology combined clinics with dermatology, neurology (neuromuscular disease), and pulmonology (interstitial lung disease).
Specialty Clinics Second-year fellows rotate through clinics for metabolic bone disease, physical medicine & rehabilitation, and pediatric rheumatology (at Seattle Children's Hospital).
Outreach Clinics Second-year fellows on the Clinical Practice Pathway provide rheumatology care at the Tulalip Tribes Clinics (north of Seattle). 
Clinical Trials Second-year fellows on the Clinician-Scholar or Clinical Practice Pathways may pursue focused, hands-on training in clinical trials work. The Division participates in 5 – 7 ongoing clinical trials.
Quality Improvement First-year fellows participate in quality improvement training and mentored projects commensurate with their career goals.
Mentoring and Career Guidance
Mentorship Committee A small committee of physician-scientist and clinician-scholar faculty members meets regularly with first-year fellows to help identify a training pathway and career-appropriate mentors and scholarship/research projects.
Career Development Committee (CDC) In the second (and third) year of training, a carefully chosen group of faculty members (including the fellow's mentor) meets 2 – 3 times yearly to offer high-level guidance toward career development milestones.
Individualized Development Plan (IDP) A living document maintained by each fellow to record career goals, action plans, and committee recommendations.   
Didactics
Kickstart lecture series First-year summer lecture series covering core topics in rheumatology
Fellow's lecture series 24-month lecture series covering a broad range of rheumatology topics
MSK-Ultrasound Second-year summer lecture series covering principles of MSK-ultrasonography
Educator Workshop Series 12-month series of workshops for fellows and faculty designed to build clinical education skills and knowledge
Radiology Conference Monthly virtual case conference facilitated by MSK radiology faculty
Rheumatology Grand Rounds Monthly conference highlighting local, national and international experts in rheumatology research and care
Journal Club Twice-monthly sessions discussing high-impact publications in rheumatology research and care
Morning Report Periodic morning report style discussion of challenging and educational cases facilitated by a faculty member
Bruce Gilliland, MD Immunology Lecture Series Annual lecture series focusing on topics in clinical immunology
Works in Progress Fellows, faculty, and research staff present their research / scholarly projects.