Background 
"This is just another example of my dad's long-term thinking", marvels Chris Sabo.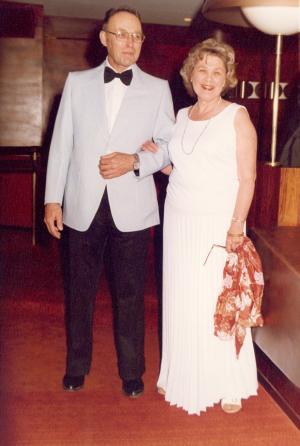 Washington natives Jerry and Esther Maury lived in the Olympia, WA area most of their lives. After serving in the Coast Guard during World War II, Jerry and Esther returned home to Olympia so that Jerry could join his family's business, Maury Insurance and Finance, where he specialized in making small loans to local residents.
Their daughter, Chris Sabo, remembers how much her father enjoyed working hard and building long-term relationships with his clients, sometimes even stopping by their homes on the weekends to visit them.
In his spare time, Jerry also loved to work with his hands, and this interest led him to acquire a number of old houses which he fixed-up and rented at extremely low prices. He always wanted to help those who were trying to get ahead in life and by providing "cheap rentals" (which is how he always referred to his houses), he helped many of his renters accomplish the goal of buying their own homes.
Bob Maury, Jerry and Esther's son, who often worked on the houses with his father, remembers how one couple named their first born "Jerry" because they were able to buy a house with the money they had saved while renting "a cheap rental".
Jerry and Esther established the Herndon (Jerry) and Esther Maury Professorship in Rheumatoid Arthritis at UW Medicine in 2005 with a gift made through their estate.  This endowed faculty position provides a permanent source of funds that will enable UW Medicine to recruit and retain doctors and scientists researching new treatments for Rheumatoid Arthritis, a disease that has touched their family.