Clinic Description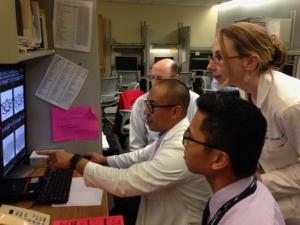 The interstitial lung disease/rheumatology clinic is a multidisciplinary clinic that meets on a regular basis to address the medical issues of patients who have lung disease as a result of an underlying autoimmune process such as rheumatoid arthritis, systemic lupus erythematosus, scleroderma spectrum disease, sarcoidosis, and many other autoimmune diseases (see below for a full list).
The clinic is a combined clinic meaning that rheumatologist and pulmonologist are physically in the same space and frequently come in to see the patient together to discuss the patient's care.  The clinic also includes on-site respiratory therapists who can do in clinic six-minute walk testing as well as spirometry as necessary. The nursing and MA staff are all outstanding and very knowledgeable about interstitial lung disease.  They will help in making follow up visits including any studies that might be needed. The ILD/Rheumatology clinic also has a close relationship with lung radiology specialists, the UWMC Pulmonary Hypertension clinic, UWMC Lung Transplant clinic, the Gastrointestinal Evaluation center, and the Pulmonary Pathology group who are all important partners in the care of people with autoimmune lung diseases.
Twice a month there is a multidisciplinary conference to discuss difficult patient care issues and call on the expertise of specialists from around the Seattle and Pacific Northwest area. 
Autoimmune illnesses that may potentially cause lung diseases include:
ANCA vasculitis
Anti-synthetase Syndrome
Mixed connective tissue
Myositis
Rheumatoid arthritis
Sarcoidosis
Scleroderma
Sjogren's syndrome
Systemic lupus erythematosus
Takauasu vasculitis
Undifferentiated autoimmune lung diseases
Providers
Pulmonologists
Rheumatologists
Radiologists
Pathologist
---
Since the University of Washington Medical Center is a teaching hospital, visits might include residents or fellows who might see you prior to a faculty provider.
How to make an appointment
Appointment is by referral from your care provider.  It is important to have records of your previous blood tests, breathing tests, and radiology studies when available.